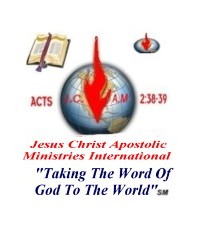 ---
Assistant First Lady

SISTER: Claudine M Bunch
ASSISTANT FIRST LADY
Assistant General Treasurer / Assistant General Secretary
13726 CEDAR RIDGE AVE
BATON ROUGE, LA
JESUS CHRIST APOSTOLIC MINISTRIES INTERNATIONAL
secretary1@jcami.org
District Web Site: Louisiana
---

Claudine Bunch the Asst. General Treasurer / Asst. General Secretary & Assistant First Lady of the Jesus Christ Apostolic Ministries International , was born January 26, 1942 in Laurel, Mississippi. Received the Baptism of
the Holy Ghost and was baptized in Jesus Name in 1954. Was very active
in her local church Sunday School department and ladies ministries until
she moved to the United Pentecostal Church International (UPCI)
headquarters in St. Louis in 1967 to work for Harvest Time - the radio voice of the UPCI. Moved back to Baton Rouge in 1970 and married David D.
Bunch in 1975.
They have two sons.The eldest - David Benjamin Bunch is licensed with the UPCI and is leaving for Foreign Missions work in Ireland in May, 2008. He married Farrah Labored Bunch and has a son - Dawson Benjamin Bunch, and a daughter to be born December 28, 2007 - Elayna Noelle Bunch. Farrah's niece, Kristen Shirey, came to live with them at the age of 10. She is very active in the youth group and is going to Ireland with them. Their younger son - Stephen Dale Bunch has a very anointed music
ministry. He is on the music staff at the First Pentecostal Church of Denham Springs, LA. He married Sherie Dentro Bunch. Sherie is also on the same music staff and has a very beautiful singing voice. They are a great
music team.